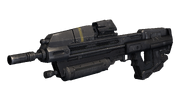 The MA37 Assault Rifle is a service rifle used by the UNSC Army during the events of Halo: Reach. It is called the MA5 Assault Rifle by other branches of the military. It is the basic model of the MA5B (used in Halo:CE), the MA5C (used in Halo 3) and the MA5K (a carbine used by the SPARTAN-IIIs during the events of Ghosts of Onyx).
| | |
| --- | --- |
| Firing Mode | Fully Automatic |
| Rate of Fire | 100 Rounds per Minute |
| Magazine Capacity | 32 Rounds |
| Ammunition Capacity | 9 Magazines (288 Rounds) |
| Rounds to Kill | 20 Rounds (Fully shielded SPARTAN) |
| Misc Effects | Due to the reticule bloom, firing in short controlled bursts is ridiculously accurate. However, using a DMR is still faster due to its ability to land headshots. |
Ad blocker interference detected!
Wikia is a free-to-use site that makes money from advertising. We have a modified experience for viewers using ad blockers

Wikia is not accessible if you've made further modifications. Remove the custom ad blocker rule(s) and the page will load as expected.