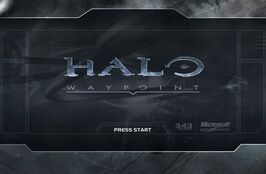 Halo: Waypoint is the first Halo project created by Microsoft's 343 Studios. It is an application that acts as a supplement for the Halo Series on the Xbox 360. It is available for free on the Xbox Live Marketplace if you have a Gold subscription.
Halo: Waypoint lets you check on your career status for the entirety of Halo (This includes 3, ODST and Wars). Depending on the achievements you have you will be given a rank (1-50).
Every day there are new features added to Reach, the category of feature depends on the day of the week.
Reach Armor Unlocks
Edit
Meeting certain requirements and then checking your career status on Waypoint will unlock one of seven pieces of armor in Reach. They include:
| | | |
| --- | --- | --- |
| NAME | TYPE | REQUIREMENTS |
| Military Police | Helmet | Career Milestone 15 and the "Soldier We Needed You To Be" achievement for Halo: Reach. |
| CBRN/HU/RS | Attachment | Career Milestone 20 and the "Pink and Deadly" achievement from Halo 3: ODST |
| HU/RS/CNM | Attachment | Career Milestone 25 and the "Spoonfull of Blamite" achievement from Halo: Reach and the "Fear the Pink Mist" achievment from Halo 3. |
| CQB | Helmet | Career Milestone 20 and the "Folks need Heroes..." achievment from Halo: Reach. |
| HU/RS/CNM | Attachment | Career Milestone 25 and the "Campaign Complete: Heroic" achievement from Halo 3: ODST. |
| UA/HUL | Attachment | Career Milestone 30 and the "Campaign Complete: Legendary" achievement from Halo 3 and the "Gods must be Strong" achievement from Halo: Reach. |
| Base Security | Chest | Career Milestone 30 and the "Yes, Sensei" achievement from Halo: Reach. |